I love old fashioned cocktails, and they are a big deal here in Kentucky. They are basically the perfect combination of bourbon, oranges, and cherries, and I thought those would make such great flavors for a dessert.
This is a super easy recipe for cream puffs with old fashioned cocktail flavored filling, looks super fancy but is actually really easy to make.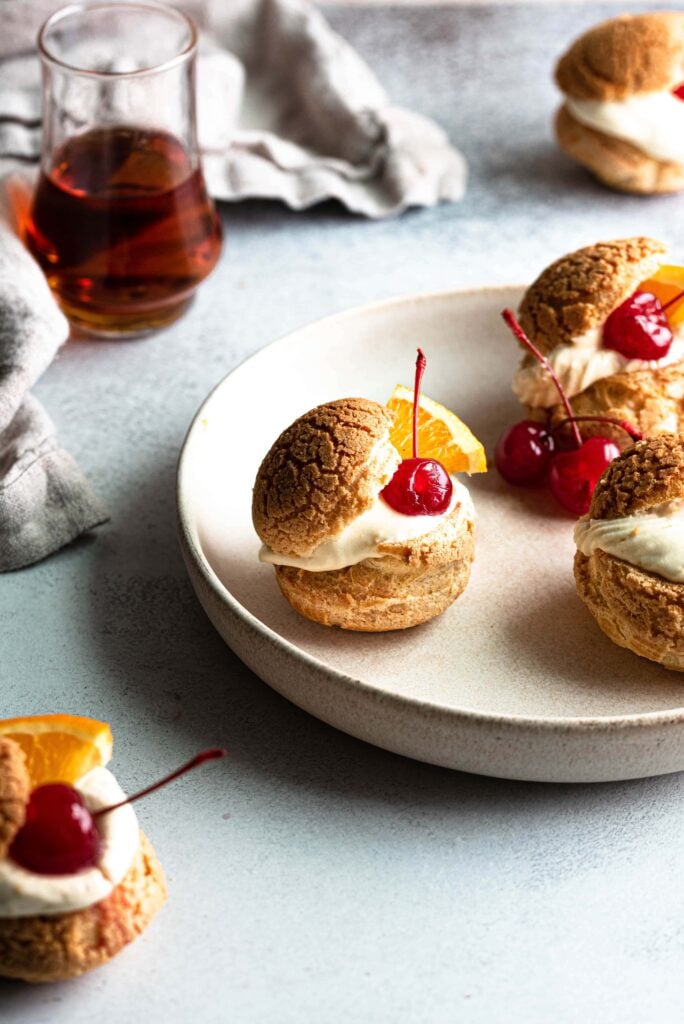 What are cream puffs?
Cream puffs are choux pastry that is piped into little puffs and are then filled with whipped cream, pastry cream, or like in this case, with cream diplomat. Choux pastry is unique and tasty; it's a dough that combines milk, water, flour, eggs, and in this case, a little bit a bourbon. The water, milk, flour, and bourbon, are beaten and heated in a pot on the stove and then moved to a stand mixer when the eggs are incorporated. This dough can then be piped into puffs for cream puffs or into logs for eclairs.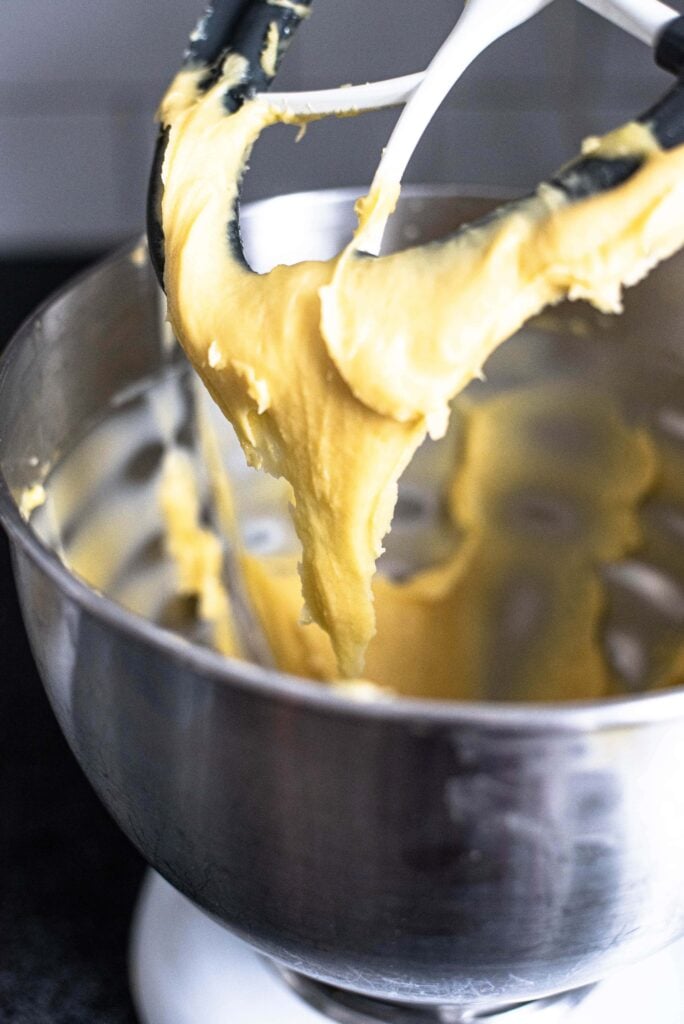 How to make cream puffs:
Cream puff and choux pastry are really easy to make; they just have a key few steps to follow. The big trick is to keep a very good eye on the consistency at the end. This will make or break your cream puffs. You have to add just enough eggs; here, I used 2 ½ eggs. After I added the first two eggs, I whisked the remaining egg and added just a little at a time. See the pic above for exactly what your dough should look like when it's ready. You want a very distinct V at the end of your mixer. Any wetter, the puffs with be too runny and not puff up.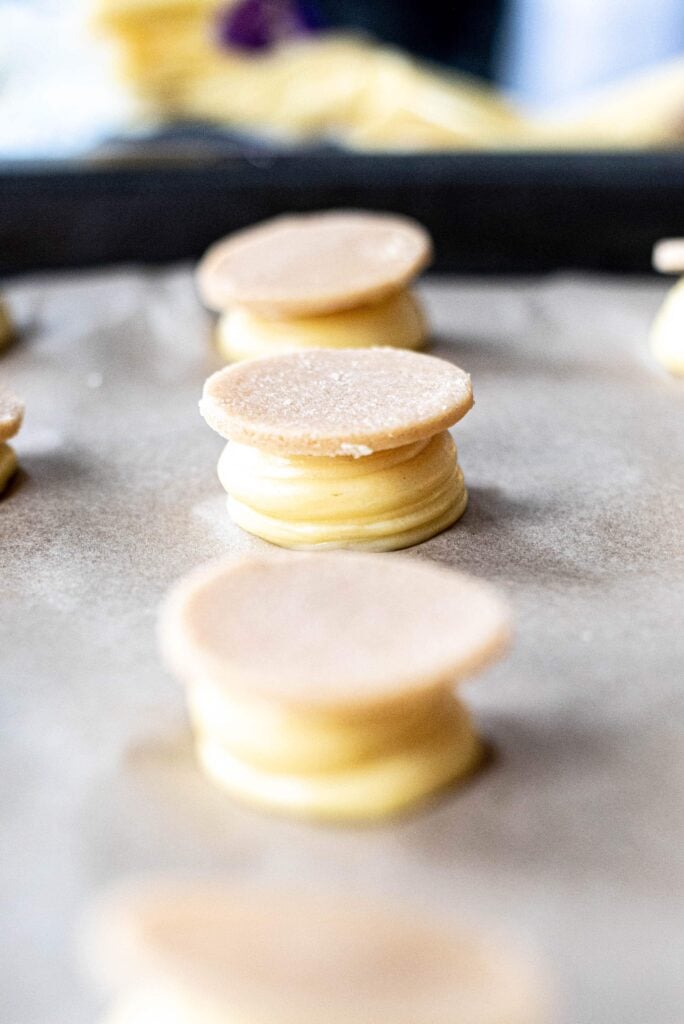 Why didn't my cream puffs puff up?
Like I mentioned above, if your dough has too much egg in it and is a little runny, your cream puffs won't puff up. Or they will puff up in the oven and then deflate the second when you take them out of the oven. Reference the photo above to make sure your consistency is right, and add the last egg a little bit at a time until it reaches this.
Old fashioned cream puff filling:
These old fashioned cream puffs are filled with a diplomat cream that tastes just (almost) like an old fashioned cocktail. It's made up of pastry cream flavored with bourbon (any kind will do but I used Woodford Reserve) in this recipe, cherry syrup, and orange zest, mixed with bourbon whipped cream. Adding the whipped cream makes it a diplomat cream; it also makes the filling super light and delightful. I find pastry cream on its own, a little too thick and custard-like.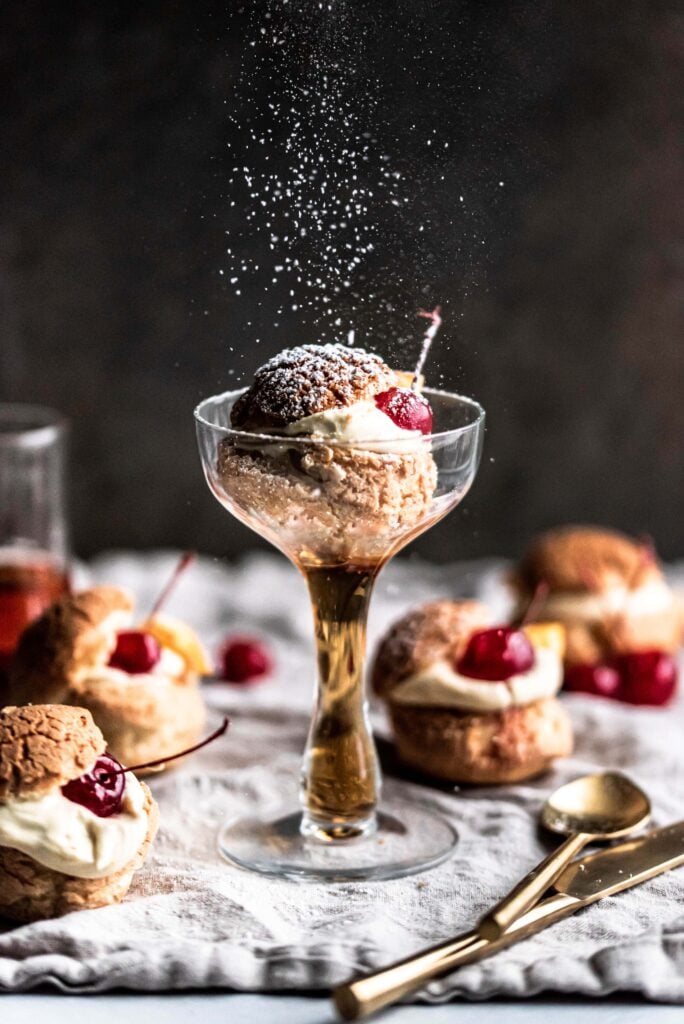 How to make pastry cream and cream diplomat:
This pastry cream recipe is super easy and really tasty. The only real trick you need to watch out for is when you are whipping the eggs into the corn starch and sugar, corn starch can start to cook and cause the eggs to clump if you aren't constantly whisking them.
LOOKING FOR MORE DESSERT RECIPES?! CHECK THESE OUT!
THANKS SO MUCH FOR READING ABOUT THESE AWESOME COOKIES! IF YOU MAKE IT BE SURE TO LEAVE A COMMENT AND/OR GIVE THIS RECIPE A RATING! I'D LOVE TO HEAR EVERYONE'S THOUGHTS!
Print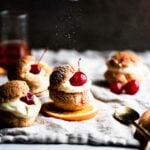 Old Fashioned Cream Puffs
Author:

pate giltner

Prep Time:

5 hours

Cook Time:

30 minutes

Total Time:

5 hours 30 minutes

Yield:

30

cream puffs

1

x
---
Cream Diplomat 
2 cups

milk

1 tsp

vanilla extract

½ tsp

salt

⅓ cup

bourbon
Zest from

1

orange (1 tbsp)

1 tbsp

+

1 tsp

cherry syrup (I used the syrup from the jar of cherries)

½ cup

sugar

¼ cup

cornstarch 

5

egg yokes

6 tablespoons

chilled butter

2 cups

heavy cream 

2 tbsp

bourbon
For the cream puff craquelin 
4 tbsp

butter 

¼ cup

+

2 tbsp

light brown sugar

½ cup

flour 
For the choux pastry 
¼ cup

milk

3 tbsp

water 

1 tbsp

bourbon

½ tbsp

sugar

¼ tsp

salt 

4 tbsp

butter

½ cup

flour 

2

-

3

eggs
Garnishes:
Maraschino cherries

Orange slices
---
Instructions
For the cream diplomat:
Heat the milk, vanilla, orange zest, cherry syrup, and salt in a heavy bottom saucepan on medium-low heat until it starts to simmer. 

While the milk is cooking, whisk the sugar and cornstarch together in a medium bowl. Quickly whisk in the egg yokes and keep whisking until the mixture is light and a little foamy. 

Slowly add ⅓ of the milk mixture a little bit at a time into the whisked egg yolks. Keep whisking until it's all well mixed. This tempers the eggs so that they don't curdle)  

Pour the egg mixture back into the pot with the remaining milk. Turn the heat up to medium and cook while whisking until it reaches a pudding-like consistency and is lightly boiling.   

Transfer the mixture to a bowl and add in the butter one tablespoon at a time. Whisking until each tablespoon is fully incorporated before adding the next. 

Cover the mixture with plastic wrap and press it directly into the top of the pastry cream. This prevents a film from forming on top. Place in the fridge to set for four hours. 

Once the pastry cream is set, make the bourbon whipped cream by beating the heavy whipping cream and bourbon until it reaches the soft peak stage. 

Fold the whipped cream into the pastry cream until it's been fully incorporated. Set in the fridge until you are ready to pipe it. 
For craquelin 
In a small bowl, combine the brown sugar and softened butter with a spatula until it reaches a paste. Add in the flour and mix until the flour is fully incorporated. 

Roll out the craquelin dough between two sheets of parchment paper until it reaches ⅛ inch thickness. Chill for 15 minutes. Once chilled, use a 1 inch round cutter and cut out 20-30 rounds. Transfer the rounds to plate and chill until you are ready to use.
For the choux pastry 
In a medium saucepan, heat the milk, water, bourbon, sugar, and butter and bring to a boil. Stir until all the butter has melted. 

Add in the flour and stir with a wooden spoon until a soft dough ball forms. Keep mixing the dough around the pan for 2-3 minutes to cook the flour fully. 

Move the dough to the bowl of a stand mixer fitted with the paddle attachment. Turn the mixer on top medium and add the eggs in one at a time. Allow each egg to be fully mixed before adding the next one. After you add the first two eggs, lightly beat the remaining one and it in ¼ at a time. Keep mixing until your dough is glossy but thick enough to hold a V shape at the end of the paddle (see photo). I used 2 ½ eggs in total. 

Preheat your oven 425 and line two baking sheets with parchment paper. 

Transfer your choux pastry to a pastry bag and cut off the end. Pipe the dough into 1 inch mounds about 1 ½ inches apart. You should be able to pipe 20-30 mounds. After your dough is piped, add your cut craquelin rounds to the top of each mound. 

Place your baking trays in the oven and turn the temp down to 375. Bake for 30- 35 minutes or until the puffs are risen and are golden brown. 

Turn off the oven and let the puffs cool for 15 minutes with the door open. Remove the trays from the oven and let the puffs finish cooling.
Assembly 
Once the puffs have cooled, cut the tops off with a knife. 

Fill another pastry bag with the diplomat cream and pipe the cream into the puffs. Add the tops back on and garnish with orange slices and cherries. 
---