I really love bread, and my favorite bread is focaccia. I've been messing around with my basic foccacia recipe for some time now, and I really like how this fresh herb focaccia turned out. It's a long recipe to make (you start making the biga the night before), but it's a delicious one.
I fell in love with focaccia when I was studying abroad in Florence. I would see all these amazing focaccia breads with every topping imaginable through the windows of bakeries, lunch shops, and groceries around Florence. There was focaccia with roasted tomato's, prociutto, veggies, and all types of cheese, and they were all so beautiful.
The recipe I originally based mine off of was Nancy Silverton's (the Los Angeles queen of bread and the creator of La Brea Bakery and Pizzeria Mozza) but it has now morphed into its own thing.
How to make focaccia:
It's all starts with the biga. The biga is the starter for the dough. You combine 1/16 tsp of active dry yeast and warm water (about 105 degrees is perfect) and a little bit of flour and let it ferment overnight (12-24 hours). The next day you add in your remaining yeast, flour, and olive oil. Mix it until it's well kneaded and has developed a good amount of gluten. Then let it rise until it's doubled in size. Stretch the dough and then let it rise again. Then you move it to a pan or pans covered in olive oil, let it rise again, and you topping and let it rise one final time. Bake, and then you have your delicious focaccia.
Toppings:
This is herb focaccia, but you can top it with anything, tomatoes, olives, asparagus, anything that strikes your fancy.
Other bread recipes:
Rosemary and Roasted Garlic Bread
Print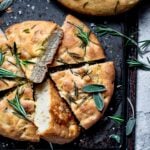 Fresh Herb Focaccia
---
1

A packet of active dry yeast 

1/2 cup

warm water (about

105

degrees)

1/2 cup

all-purpose flour for that biga and 3 1/4 cups for the dough 

1

+

1/4 cups

water

1 tablespoon

salt 

1/4 cup

olive oil for the dough and 1/2 cup to pour in the baking pans

3 tablespoons

fresh thyme

3 tablespoons

fresh oregano 

2 tablespoons

freshly torn sage leaves 
Leaves from

5

–

6

fresh rosemary stems 
Pinch of sea salt for sprinkling
---
Instructions
Make the sponge by combining 1/2 cup warm water and 1/16 teaspoon of active dry yeast in a mixing bowl and give it a few minutes for the yeast to dissolve. Once the yeast has fully combined with the water add in the 1/2 cup flour. Mix to combine. Cover the blow with plastic wrap and leave 12-24 hours to ferment. Once done the sponge will be bubbly and look like pancake batter. 
Once the sponge is ready, put the sponge in a bowl fitted to a stand mixer with the dough hook attachment. Add the 1 and 1/4 cup water, 1/4 cup olive oil, and the rest of the yeast and mix well. While on low speed, slowly mix in the 3 1/4 cups flour until fully combined. 
Add the salt and all the herbs except the rosemary and turn the speed up to medium and beat the dough until it pulls away from the bowl. About 5-10 minutes. The dough won't totally clean the bowl but it will get pretty close.
Let the dough rise by placing it a large bowl greased with olive oil. Cover with two layers of plastic wrap and leave it for 1 1/2 hours. 
Once the dough has doubled in size, pour it out onto a floured surface and stretch the dough by pulling each side of the dough and folding it to the center. Put the dough back into the bowl folded side down and cover with plastic wrap and let it prove for 1 more hour. 
Pour 1/2 cup olive oil into 2 10″ baking tins and push it around to fully coat the pans. Divide the dough into 2 equal pieces and place each piece into a tin. Gently stretch the dough to the sides of the tins being careful to not deflate the dough. Cover the pans with a tea towel and let the dough rest for 3o minutes.
Once rested put the rosemary and sea salt on top of each tin of dough. Gently press the pieces into the dough so that it all becomes well dispersed. Cover and let it rest for 45 minutes more. While it rests preheat the oven to 400 degrees. 
Bake the dough for 30-40 minutes until crust is golden and very crispy. Brush baked focaccia with olive oil and sprinkle with more sea salt.