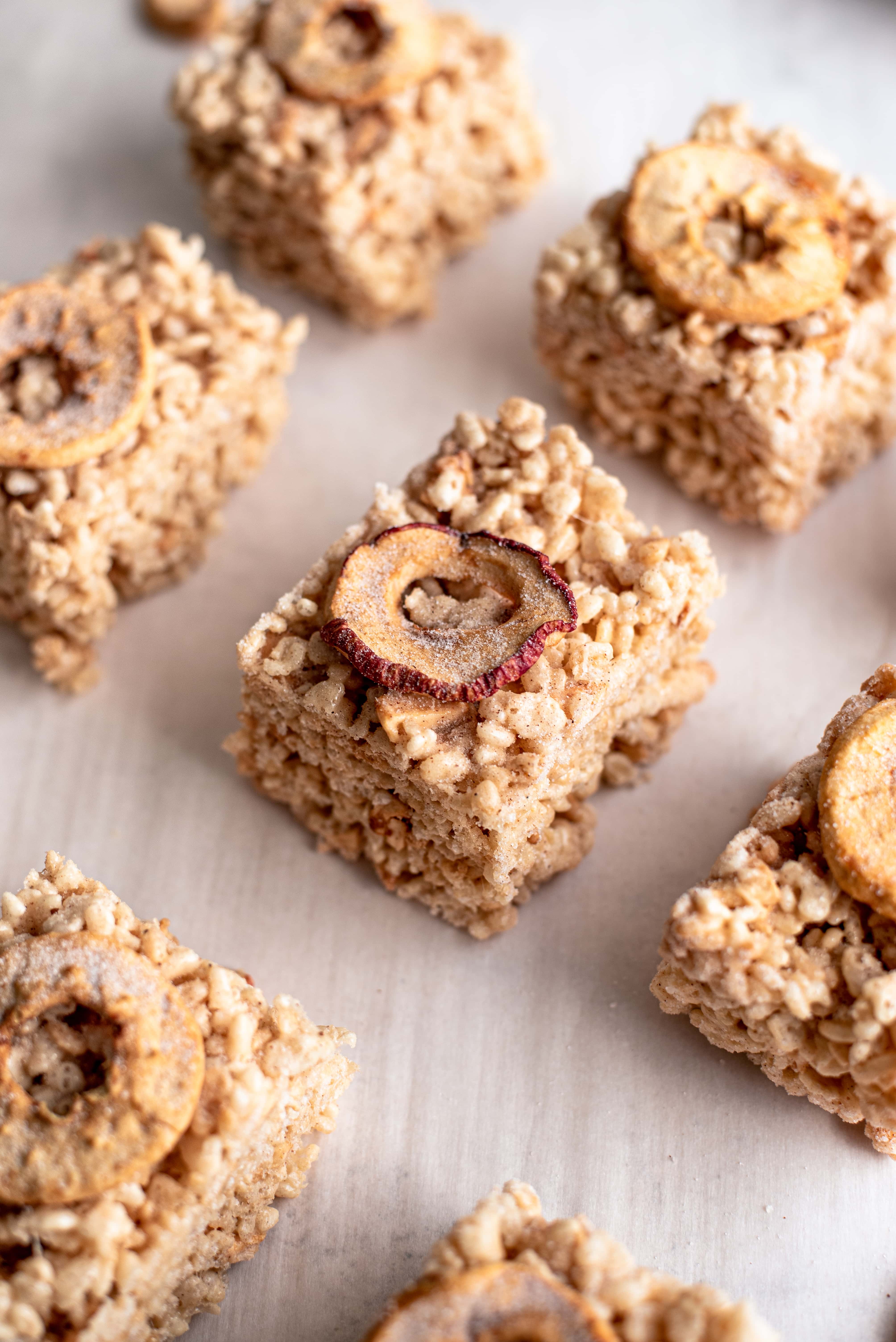 These creamy caramel apple rice krispy treats are a delicious mix of marshmallows, dried apples, and all sorts of fall spices. They are then topped with a bourbon caramel to make them even more delicious.
These Caramel Apple Rice Krispies combine all the best flavors from fall. They are loaded with cinnamon, allspice, clove, nutmeg, and ginger, and then are coated in cinnamon sugar and drizzled with bourbon caramel. How could anyone not fall in love with that?
The importance of Marshmallow to Rice Krispy Ratio:
These are ooey gooey Rice Krispies, and they have the perfect amount of marshmallow. They pull apart easily but also hold their shape and maintain all their bar like principles. There are 10 cups of packed mini marshmallows and 9 cups of Rice Krispies. To make my marshmallow cup measurements, I scoop an overflowing cup and pack it like I would brown sugar to ensure it's a full cup. Otherwise, you won't get enough creamy marshmallows. And nobody wants that—those 10 cups equal to a little less than 2 10 ounce bags of mini marshmallows.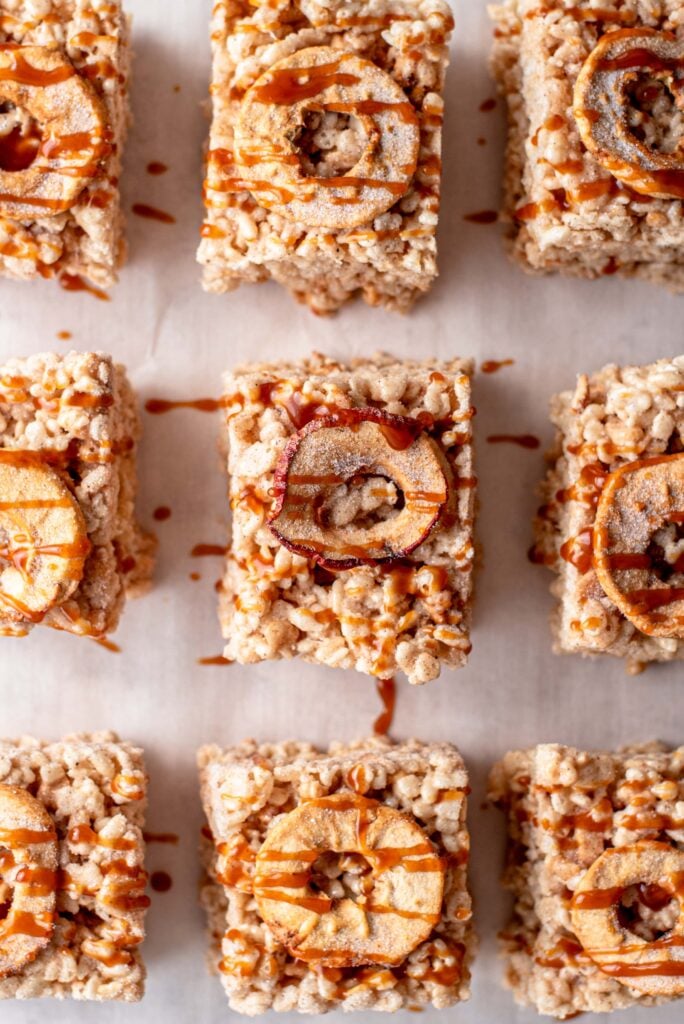 The importance of butter in caramel apple rice krispy treats:
This recipe has quite a lot of butter, which is because butter prevents the Rice Krispy mixture from sticking to your pot, spatula, and baking tin. It adds a nice bit of flavor, but its primary function is to help the mixture stick to literally everything. So don't skimp on the butter, is what I'm getting at.
Melting the marshmallows and handling the mixture:
Two of the key factors to amazing Rice Krispy treats is not overcooking the marshmallows and not overhandling the mixture. You want to melt the marshmallows until they are just melted, and not anymore. Overcooking them will make them tough. And you don't want to over-handle and push too hard down on the mixture once they are in your baking try because that will result in very dense treats.
OTHER FALL RECIPES:
APPLE AND CARDAMOM GALETTE WITH BOURBON CARAMEL
Print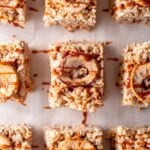 Caramel Apple Rice Krispy Treats
Author:

pate giltner

Prep Time:

30 minutes

Cook Time:

1 hour

Total Time:

1 hour 30 minutes

Yield:

9

-

12

slices

1

x
---
For the Rice Krispies:
1 cup

diced dried apple slices plus 9-12 more whole slices for decoration

¾ cup

butter (12 tablespoons)

10

packed cups of mini marshmallows 

9 cups

rice krispies 

1 tsp

vanilla 

⅛ tsp

salt

1 ¼ tsp

ground cinnamon 

¼ tsp

ground clove

⅛ tsp

ground nutmeg

¾ tsp

all spice
For the cinnamon sugar coating:
3 tablespoons

granulated sugar

¼ tsp

ground cinnamon 
For the bourbon caramel: 
½ cup

granulated sugar

¼ cup

water

¼ cup

plus heavy cream

1 tbsp

butter

1 ½ tbsp

bourbon
---
Instructions
Line a 9 x 14 baking dish with parchment paper.
Melt the butter in a large pot on medium heat, once melted; add in the marshmallows and stir and cook them until they are just melted.
Quickly add in the apples, vanilla, salt, and spices, and fold in Rice Krispies. Gently fold the mixture until the marshmallows have been evenly distributed.
Gently transfer the mixture to the baking dish and lightly press the mixture into all the corners. Place whole dried apple slices in rows on top of the mixture.
Let set for 1 hour.
While the mixture is setting, make the caramel by mixing the sugar and water in a small saucepan. Bring to a boil, then simmer over medium-high heat for 10 minutes, until the mix begins to change color and becomes a deep amber color. Gently swirl the pan from time to time to distribute the heat. Remove from the heat and carefully stir in the cream and bourbon. If the caramel starts to crystalize, return the pan to low heat and stir until smooth. Set aside to cool and thicken for about 30 minutes.
Once the Rice Kripies are set, cut them into equal pieces and rub each side in the cinnamon sugar and then drizzle them with the cooled caramel.
---