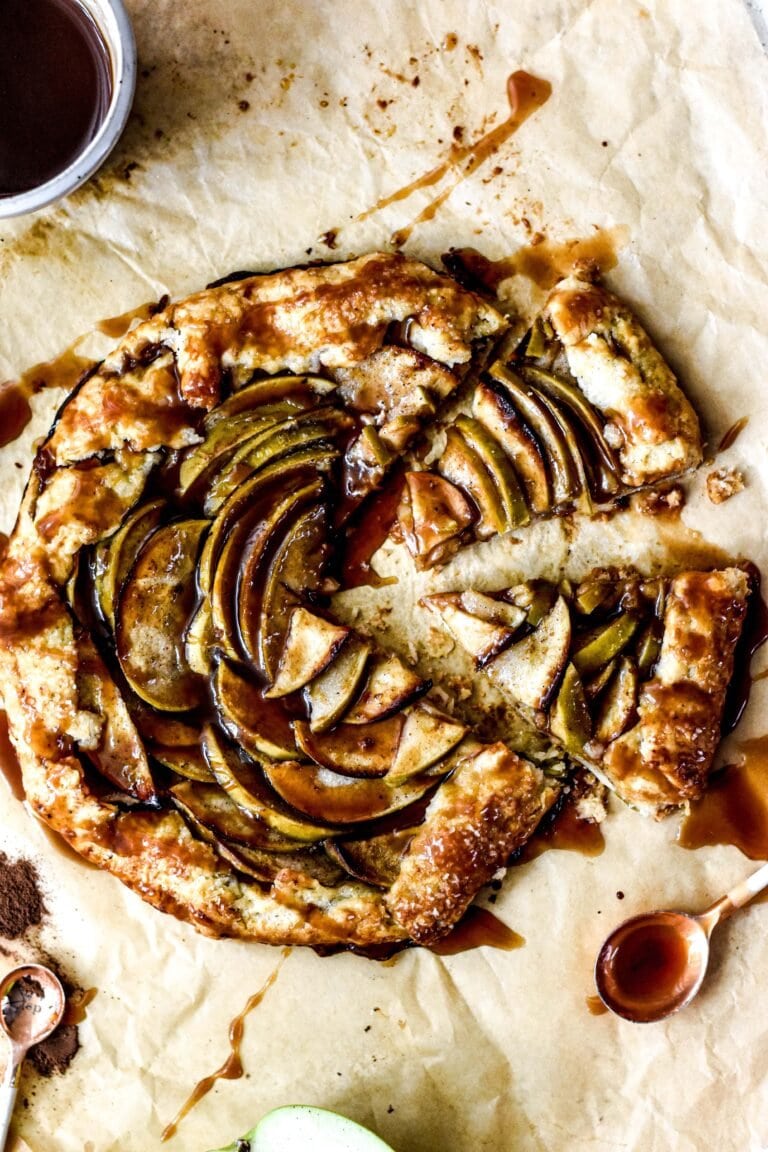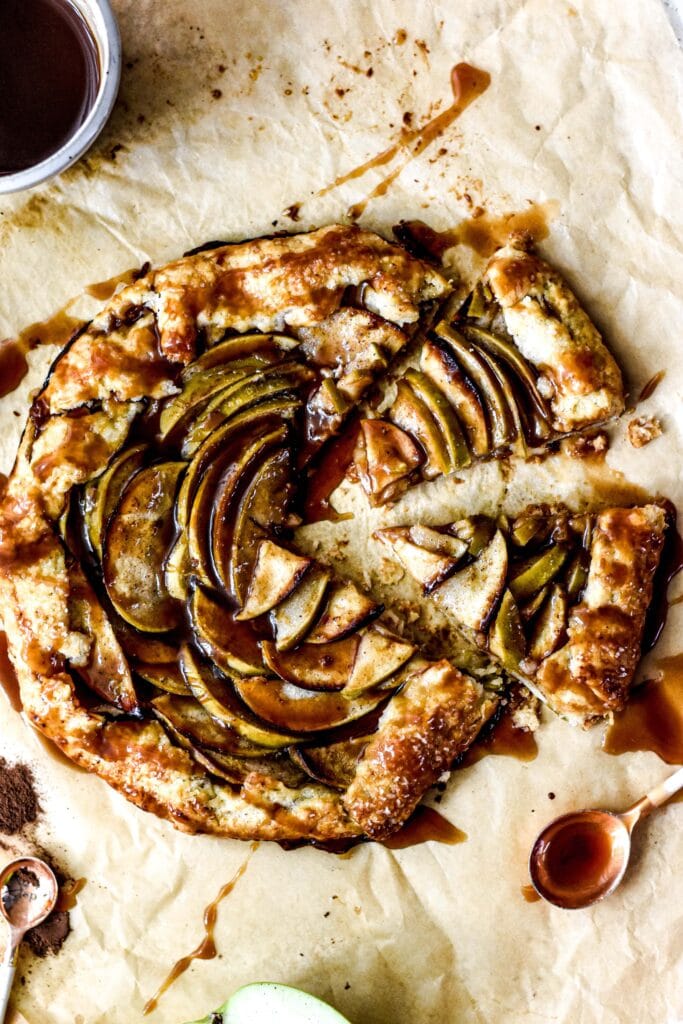 This apple and cardamom galette with bourbon caramel is an absolute dream! Its one of my favorite things I've ever made, its such a delicious mix of tart Granny Smith apples, cardamom, and cinnamon. THEN its drenched in an amazing bourbon caramel, and the combo of bourbon, caramel, apples, cardamom, and pastry is PERFECT.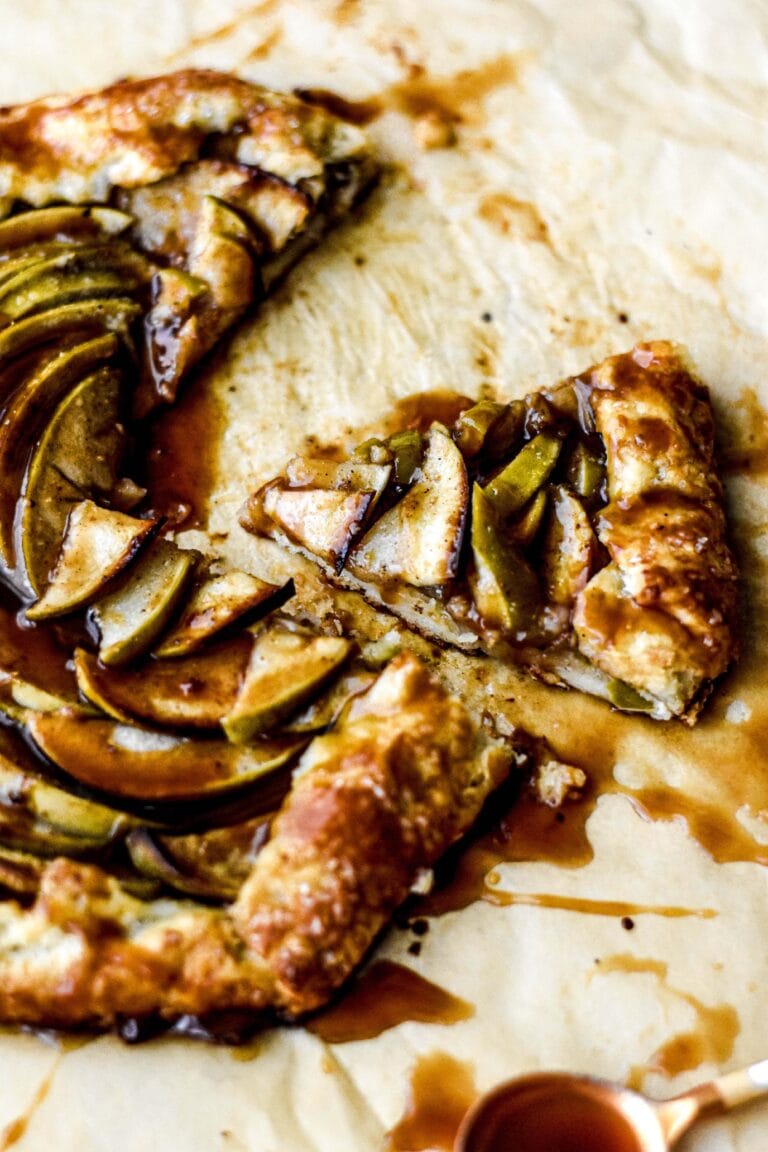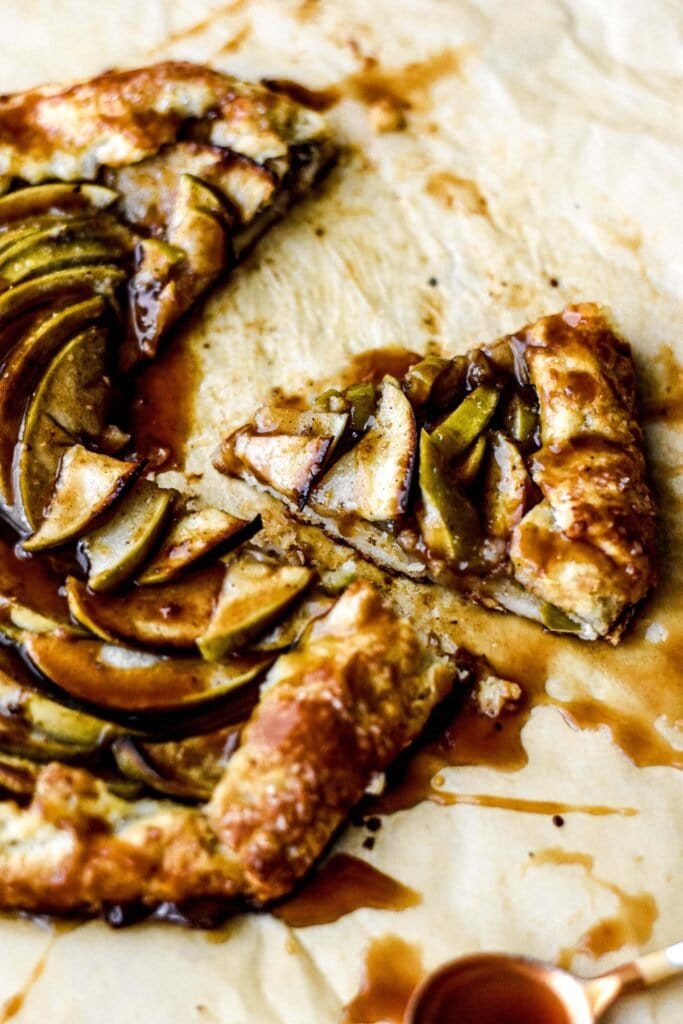 The key to Perfect Pie Crust 
The key to good pie crust is using really cold ingredients. For best results cut the butter into 1/2 inch cubes and freeze before mixing into the flour. I also chill my water and bourbon in the freezer before adding them into the dough.
Using high-quality European butter is also a great idea and helps to create a flakier pie crust. You want butter that has a high melting point so that it stays in your pastry while baking.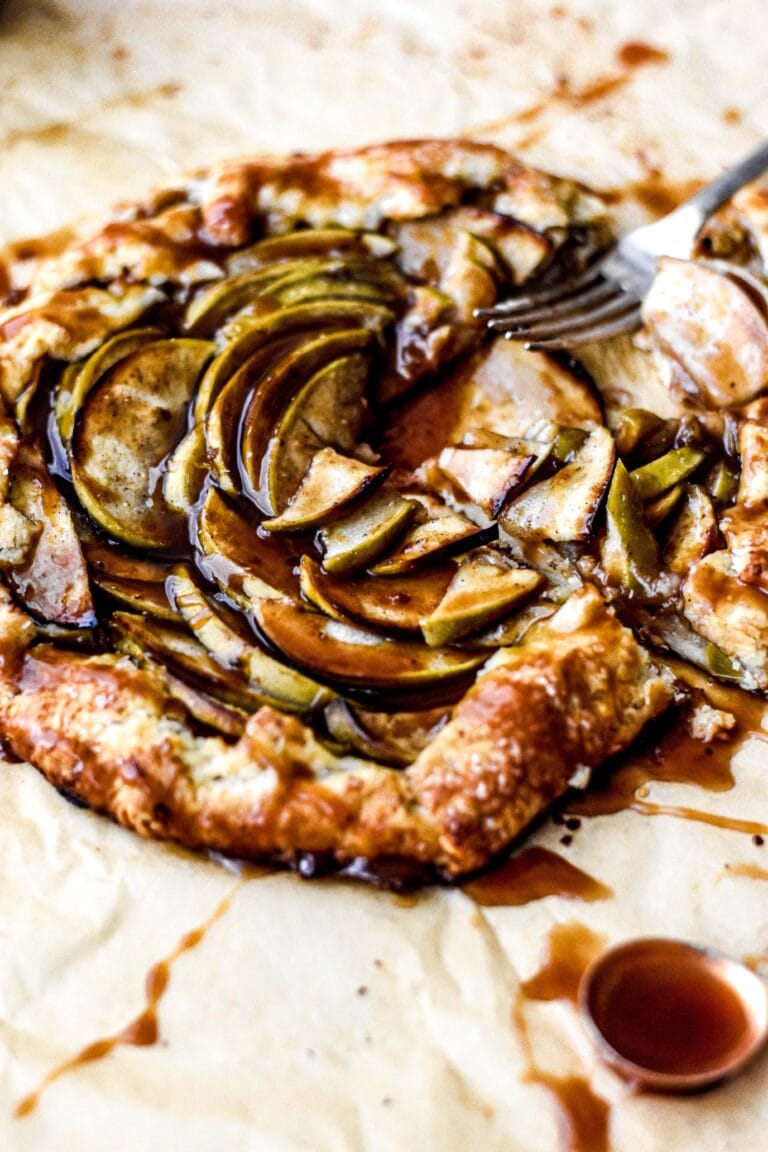 MIXING PIE CRUST BY HAND VS BY FOOD PROCESSOR
Mixing by hand will always give you a more accurate reading of how much water needs to be added to the flour mixture. However, when you don't have time or just need it to be easy, use the food processor. Just add a little bit of water at a time and check the dough after each addition. You are looking for a mixture that holds together when squeezed in your palm, but that is still crumbly.
THE FILLING
For a galette, you don't want to load up on tons of things that will make the filling too liquidy, so here it's just cardamom, brown sugar, and cinnamon.
BAKING TIMES
This apple cardamom galette with bourbon caramel takes a while to bake. You want to make sure that you give your pie crust enough time to bake the bottom thoroughly. No soggy bottoms here! Bake it at 375 for 30-40 minutes until golden brown.
If your looking for another great pie recipe try my BOURBON CHEDDAR APPLE PIE.
Print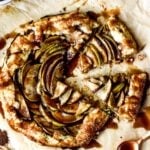 Apple and Cardamom Galette with Bourbon Caramel
---
For the galette crust:
1 1/4 cups

all-purpose flour 

1 tablespoon

sugar 

1/2 teaspoon

salt

1/2 cup

cold butter cut into

1/2

inch pieces 

1/4 cup

ice water 

1

egg +

1 teaspoon

water for the egg wash
For the filling:
3

apples cored and thinly sliced 

1/4 cup

brown sugar

2 tsp

cardamom

1/4 tsp

cinnamon

1

-

2

tbsp lemon juice
For the caramel:
1 cup

granulated sugar

1/2 cup

water

1/2 cup

heavy cream

2 tbsp

bourbon

 
---
Instructions
For the crust:
Whisk together the flour, sugar, and salt in a large bowl 
Mix in butter and toss to combine.
Use your fingers to smoosh the butter into the flour enough to create 1/4 inch pieces. Or mix in a food processor until the butter reaches 1/4 inch pieces. 
Add the water and mix with your hands or the food processor to combine and knead softly to create a dough. Wrap in plastic wrap and chill for 1-2 hours.
For the filling:
Half, core, and thinly slice the apples and in a large bowl combine them with the lemon juice, brown sugar, cardamom, and cinnamon. Once the dough has been fully chilled, roll out the dough between two pieces of parchment paper. Place the marinated apple slices in a circle design around the inside of the rolled out dough leaving about a 2-inch border. Using the parchment push the sides of the dough up around the apples to create the crust. 
Brush with the egg wash and sprinkle with sugar.
Bake 30- 40 minutes at 375 degrees.
For the caramel:
While the galette is baking make the caramel. Heat the water and sugar in a medium saucepan and stir to combine. Bring to a boil, then simmer over medium-high heat for 10 minutes until the mix begins to change color and becomes a deep amber color. Gently swirl the pan from time to time to distribute the heat. Remove from the heat and carefully stir in the cream and bourbon. If the mixture starts to crystalize, return the pan to low heat and stir until smooth. Set aside to cool. 
Once the galette has been baked pour the caramel over the pie and serve!
---