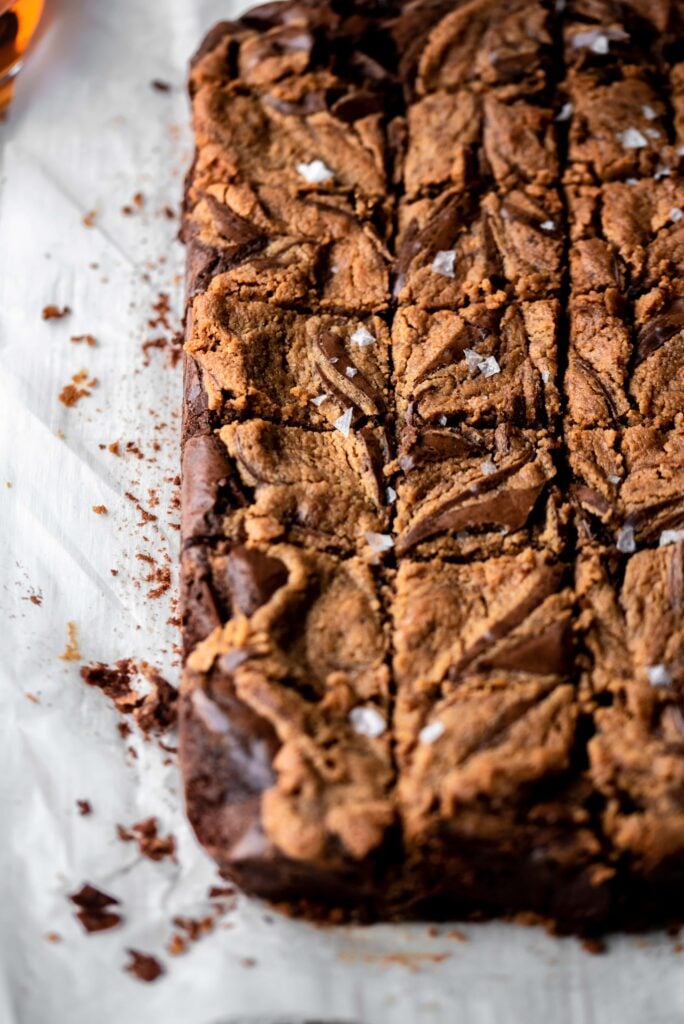 These peanut butter bourbon brownies are perfect little gooey squares of deliciousness. This recipe combines my favorite brownie recipe and an amazing peanut butter bourbon spread. These are super gooey and fudgy and almost better the next day once the cooked batter has cooled and shrunk a bit, making them easier to handle.
Now that we are all practicing social distancing and are spending a lot of time at home, I am leaning into baking. Comfort food baking to be more specific. These brownies are perfect because they last for days, and you can just nibble on them throughout the week. And they have peanut butter in them which makes them healthy, right? That basically makes it a protein.
The brownies:
What makes these brownies, so super chocolaty is that they are made by melting two types of chocolate instead of using cocoa powder. This makes them super-rich and super gooey. I use a combination of semi-sweet and dark chocolate so that it has an intense chocolate flavor, but it's not overly intense.
The method:
To melt the chocolate, you should ideally use a double broiler. Chocolate should be melted gently, which is best done in a pot or bowl set over simmer water. The bowl or pot shouldn't touch the simmering water, which is why the double broiler is ideal since its harder to figure out how much water you should put in your pot when you use a bowl. But if you don't have one, a heatproof bowl is perfectly fine.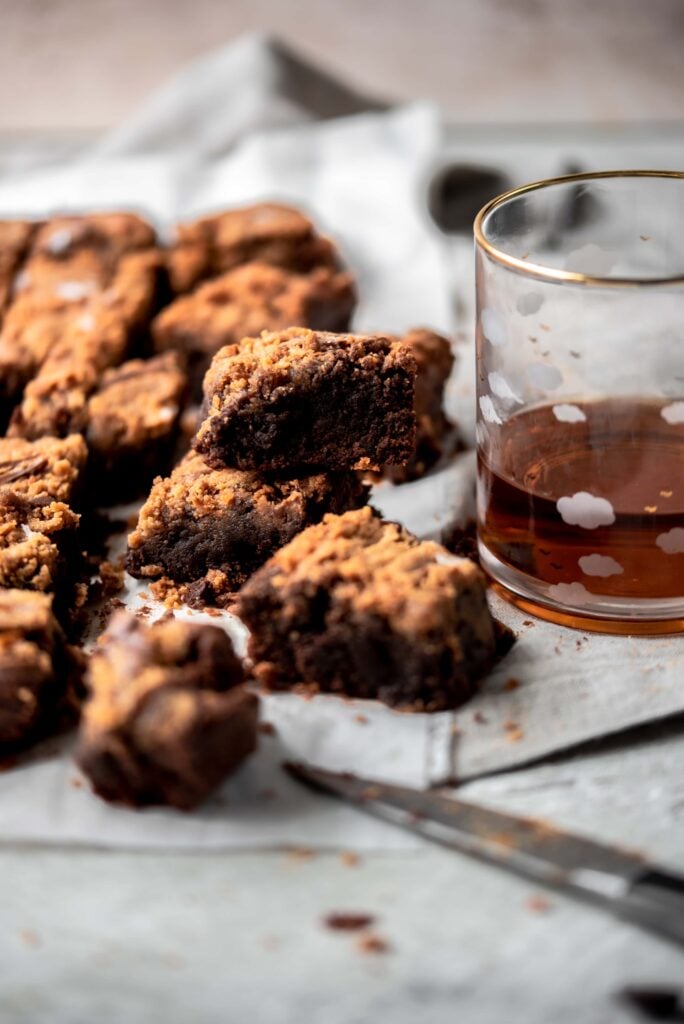 The peanut butter mixture:
The peanut butter mixture is super easy to make. You just mix the melted butter, peanut butter, bourbon, and powdered sugar until smooth and there are no lumps left.
Other chocolate recipies:
Bourbon and Cherry Cheesecake Brownies
Bourbon Chocolate Cake with Blackberry Buttercream
Spooky Cinnamon Chocolate Skulls
Print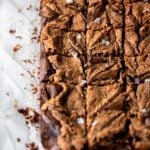 Bourbon Peanut Butter Brownies
---
For the brownie batter:
½ cup

unsalted butter

1 cup

semisweet chocolate chips

1 cup

dark chocolate chips

1 cup

all-purpose flour

1 teaspoon

baking powder

½ teaspoon

salt

4

large eggs

1 ½ cups

granulated sugar

2 teaspoons

vanilla extract

2 tablespoon

bourbon

 
For the peanut butter mixture:
1 cup

smooth peanut butter

7 tbsp

melted butter

½ tsp

vanilla

3 tbsp

bourbon

½ cup

powdered sugar  
---
Instructions
Preheat the oven to 350 degrees.
Butter 12-by-9 baking dish and line the bottom and sides with a baking sheet.

 

Make the peanut butter mixture. Using a spatula and a medium bowl, mix the melted butter, powdered sugar, vanilla, and bourbon until smooth and there are no lumps. Set aside. 
Next, make the chocolate batter. Start by melting the chocolate and butter in a heatproof bowl above a pot of simmering water. Once melted remove from heat.
In a medium bowl mix together the flour, baking powder, and salt. Set aside.
In a large bowl with an electric mixer mix together the eggs and sugar on medium speed until slightly thickened. Next, slowly add the dry ingredients mixing until just combined. Stir in the melted chocolate, bourbon and vanilla.
Pour the chocolate batter into the prepared baking dish and spread it until it's flat and even. 
Using a spoon dot the peanut butter mixture over the brownie batter, then using a knife lightly swirl the peanut butter into the batter until a pretty marble effect is reached.
Bake for 40-50 minutes or until the batter is set. 
---