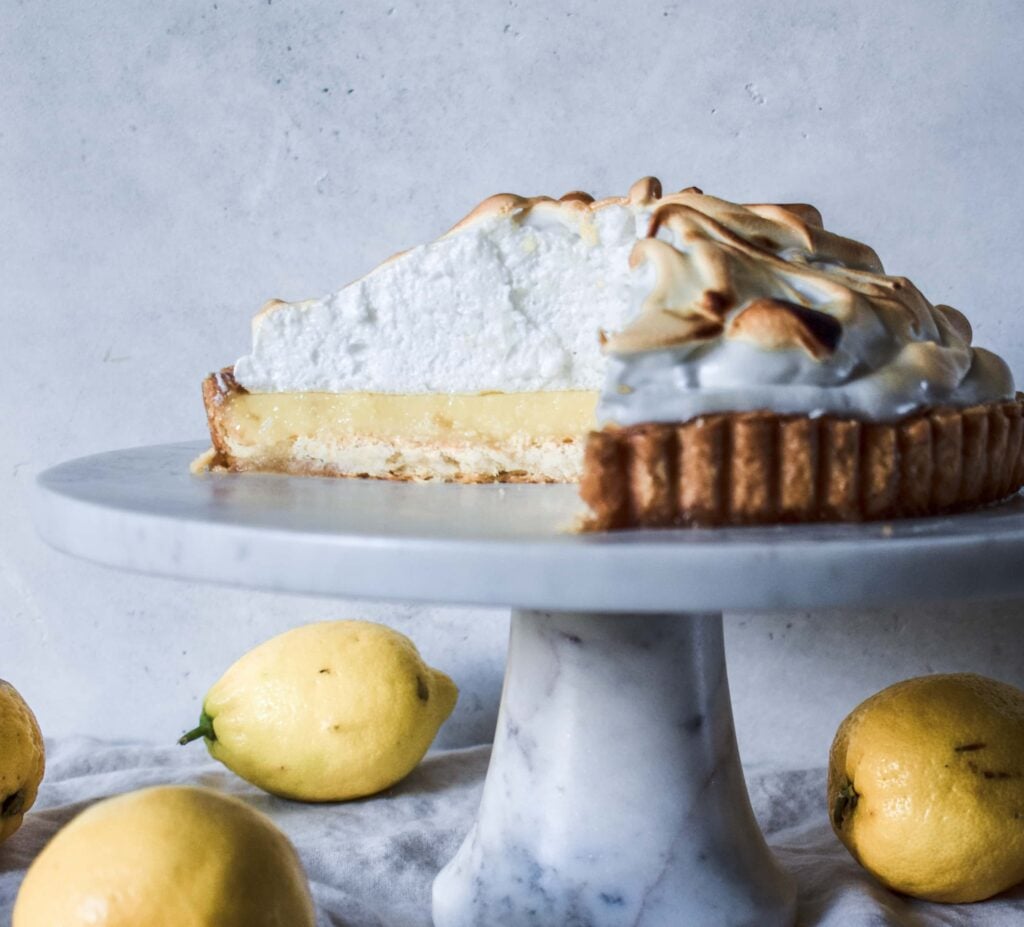 I love lemon meringue pie. I love everything about it, its tartness, its sweetness, the billowy cloud-like lump of meringue on top, it's all just so fantastic. But let's be honest, we have all had it a billion times so I wanted to kick it up a notch and give it an exciting new makeover.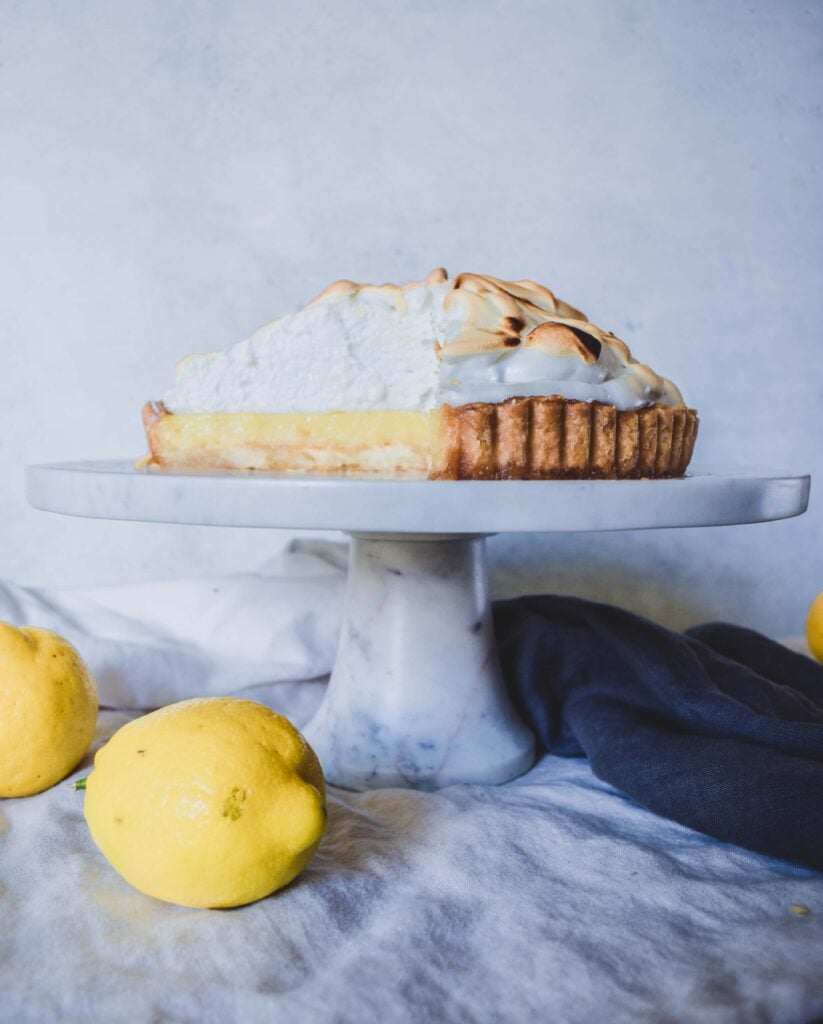 My first thought was "what if I throw some crystalized ginger in there?" So while I was heating up the sugar mixture for the curd I added a tablespoon of minced crystallized ginger. IT WAS DELICIOUS! Then while I was licking my curd spoon, I saw my bourbon just sitting there on the counter, all by itself and it hit me that one of my favorite cocktails is a mix of bourbon and lemon. So I added ½ cup of bourbon to the mix. AMAZING.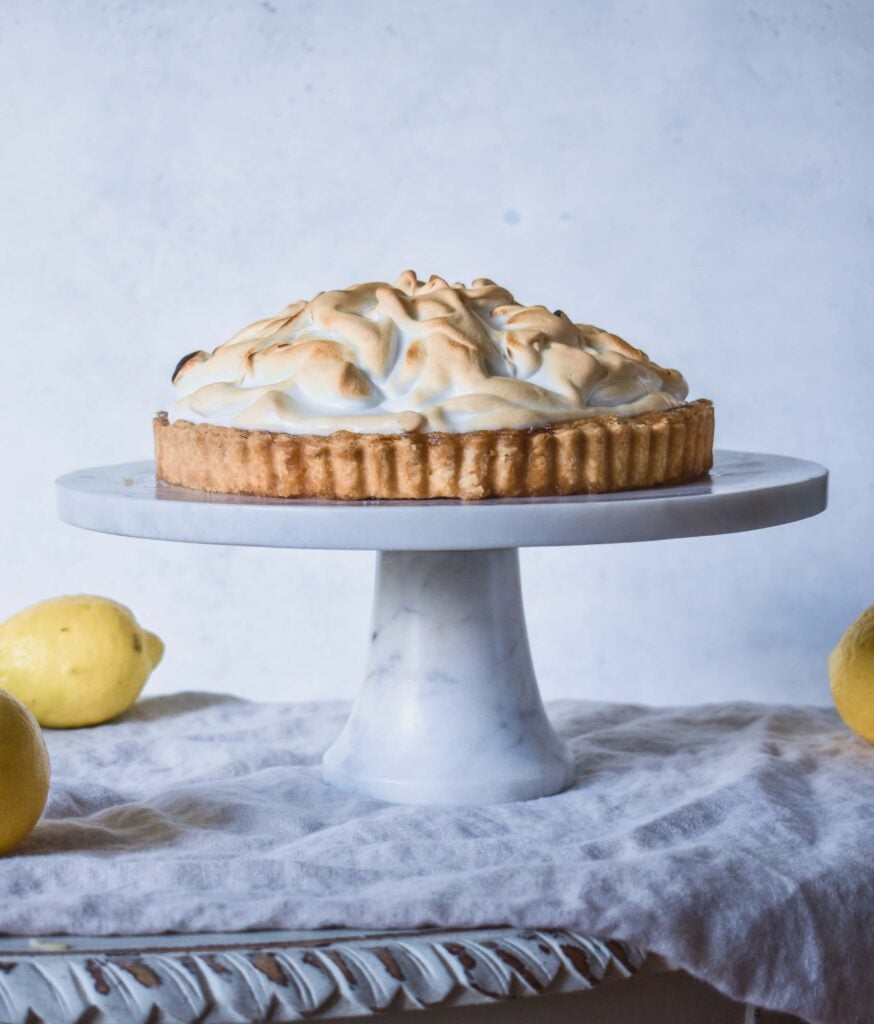 So here you go, bourbon, ginger, and lemon meringue pie. It's delicious and tastes almost like a good whiskey sour but in pie form.
Print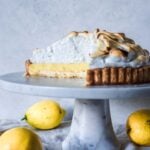 Bourbon, Ginger, & Lemon Meringue Pie
---
For the curd:
2

lemons, zested and juiced

½ cup

bourbon

1 tablespoon

minced crystallized ginger

1 cup

granulated sugar

2 tablespoons

all-purpose flour

3 tablespoon

cornstarch

¼ teaspoon

salt

1 ½ cups

water

2 tablespoons

butter
 4 eggs (yokes and whites separated, yokes lightly beaten)
For the meringue:
8

egg whites

12 tablespoons

granulated sugar
For the pie crust:
2 cups

all-purpose flour

1 tablespoon

sugar

¾ teaspoon

salt

1 cup

cold butter cut into

½

inch pieces

½ cup

ice water
---
Instructions
For the crust:
Whisk together flour, sugar, and salt in a large bowl
Mix in butter and toss to combine
Use your fingers to smoosh the butter into the flour enough to create pea-sized pieces
Add the water and mix with your hands to combine, knead softly to create a dough
Cut dough into 2 parts and wrap in plastic wrap and chill for 1-2 hours
Preheat oven to 400 degrees and roll out one of the doughs (keep the other for another pie) enough to fit a 9-inch greased pie pan or tart pan
Place dough into pie pan pressing the dough into the sides. Cut off excess dough if using a tart pan or crimp edges if using a pie pan
Using a fork poke holes in the base of the crust so that it doesn't puff up during baking
Cover the prepared crust with wax paper and pour dried rice or beans on top and blind bake for 20-25 minutes removing the wax paper and rice/beans about halfway through baking.
Let crust cool to room temperature
For the curd:
In a medium saucepan mix together sugar, cornstarch, salt, and flour. Stir in water, lemon juice, zest, ginger, and bourbon and cook over medium-high heat, while stirring, until mixture starts to bubble. Add in the butter and stir until butter has melted.
Take about ½ cup of the mixture and slowly mix it into the bowl of beaten egg yokes. Whisk the mixtures until the eggs are cooked. Pour egg mixture into the sugar mixture and continue to cook until the mixture is thick and it coats a spoon.
Remove from heat and pour mixture into cooled pie crust. Set aside and make your meringue
For the meringue
In the bowl of a stand mixer whisk the egg whites until thickened and foamy
Gradually add sugar and mix until you have stiff peaks
Spread meringue over the pie making sure to cover the edges so that the meringue is sealed to the crust
Bake at 350 degrees for about 10 minutes until the meringue is browned
 Let the pie cool at room temperature for 1 hour and then refrigerate for 3 hours
---