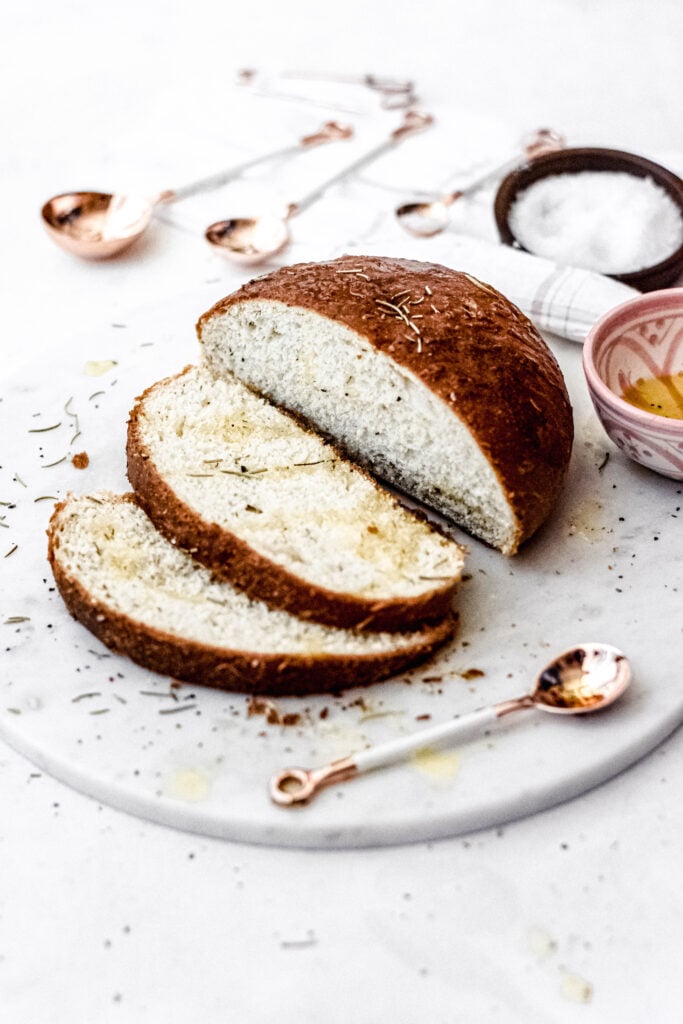 Roasted garlic has got to be one of my top ten favorite things in the world. It's so delicious, and it makes any recipe better, but it's my absolute favorite smeared on fresh bread. It's the simple things that are always the best. I've been craving a super satisfying and soft bread that has garlic baked right for weeks now, and I've finally perfected a recipe for this amazing rosemary and roasted garlic bread. Its a soft white bread with rosemary and roasted garlic, and it's sooooo good. My inspiration (besides the just general amazingness of garlic) was from that amazing rosemary bread from The Macaroni Grill. I used to LOVE that place as a kid, and the best part was always the bread they would bring out before dinner. This is like that but so much better!
How to Make Bread:
Bread is really simple to make you just have to have patience. A lot of the action happens in the kneading and the rising.
Kneading:
Kneading is how you develop the gluten in your bread, and gluten is what gives it its open texture. You can let your stand mixer with the hook attachment do the kneading, but in my experience, you get better gluten development when you do it by hand. Keep kneading until you can do the "window pane test," which means that you can pull a section of the dough so thin that you can see through it. If you can, that means you have enough gluten.
Rising:
Once you have developed your gluten, you need to let the dough rise, which is when it develops a lot of its falvor. It's during this time that the yeast feeds on the sugar and flour and ferments. You want to let the dough rise in a warm area (around 70 degrees) until it doubles in size. If its too hot the dough will rise too fast and it will hurt the final outcome of your bread.
Cooking Times:
The cook time for this bread it about 20 minutes but, in general, you are looking for a nice light brown crust and a hollow sound when you knock on the bottom of the loaf.
Print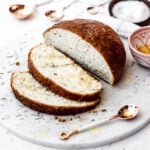 Rosemary and Roasted Garlic Bread
Author:

Pate Giltner

Prep Time:

4 hours 30 minutes

Cook Time:

30 minutes

Total Time:

5 hours

Yield:

2

loafs

1

x
---
5

cloves of roasted garlic

1 ¼ ounce

packet of active dry yeast 

2 teaspoons

sugar 

2 tablespoons

olive oil plus more for glazing 

2 ½ cups

all-purpose flour

¼

lukewarm water (ideal temp

105

degrees)

¾ cup

water

2 tablespoons

dried rosemary 

1 teaspoon

salt 
a pinch of fresh ground pepper. 
---
Instructions
Combine the yeast and ¼ cup of lukewarm water in the bowl of a stand mixer with the hook attachment. Let it sit for about 5 minutes until the yeast has dissolved and the mixture has become foamy. 
Add the 2 tablespoons of olive oil, the sugar, flour, and rosemary and mix until a dough forms. Add in the salt and the roasted garlic and mix again. 
Turn the dough on to a floured work surface and knead for 10 minutes. Knead until its smooth, elastic, and if you can pull an edge so thin that you can see through it. 
Lightly coat a large bowl with olive oil and place your kneaded dough inside. Cover with plastic wrap and it let set until its more than doubled in size. About 2 hours. 
Turn the dough back onto a floured surface and cut into two equal pieces. Shape the dough balls by folding the top, bottom, and sides into the center of the ball and turn over. Cup your hands around the outside of each piece and pull it towards you across the work surface. Rotate and keep doing this until all edges are tucked under and the dough is a good looking circle.
Place the dough on a parchment-lined baking sheet and bake let them rise until more than doubled in size. about 2 hours.
Preheat the oven to 400 degrees. Brush the dough with olive oil and sprinkle with sea salt and rosemary. Bake for 20-30 minutes. 
---